Update July 7, 2020:
Thank you very much for your donations for the school present campaign so far, we have received € 352 via Betterplace, which means that 176 school presents can be provided, but we would like to ask for your continued support so that we can surprise all 627 primary school pupils after their holidays in September.
As a surprise, we would like to hand out these presents to all pupils – and we hope for your support in the future to reach our goal.
Thank you very much for your support!
Almost every pupil in Germany gets a school present with useful things for their school days.
This is not the case in Rwanda – for that reason we will prepare a very special school present with small things for school and health for every pupil at the primary school in Ruli to provide them a good start for their education. Especially in this extraordinary and difficult period, it becomes obvious, how important the observation of hygienic rules is for all of us. And we also want to support the pupils in this respect!
Currently 127 children attend the nursery school and 627 pupils attend classes 1 – 6 in the primary school.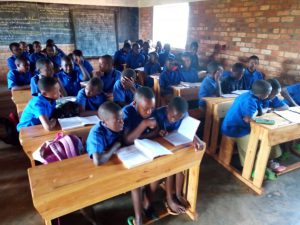 As a basic equipment we would like to give each pupil a small "school present" with articles that are completely normal for every pupil in Germany: 
– 1 exercise book
– 1 mathematical set (ruler, set square, pencil, rubber, sharpener, compasses) 
– 1 toothbrush with toothpaste
– 1 bar of soap
This package costs about 2 Euros per child – the total amount needed for this new project is therefore about 1,500 Euros – and currently 1,000 Euros are still missing. 
The above mentioned articles will, of course, be bought locally in Ruli/Rwanda to support the local shops. 
We are really looking forward to your support for this project! 
During our trip in July 2020 – which we hopefully can do – we will be able to see the children at school with these new materials with your support. 
With just 2 Euros you can support 1 child with a great school present – let's start!
You can donate either here at betterplace: 
or directly to our well-known Account for donations.
Many thanks in advance for your donations. 
Please follow and like us: