Many years ago, we supported Uwamahoro Delphine in attending secondary school and university.
Now, professionally successful, Delphine herself is helping girls and women from difficult backgrounds to build a better future through her non-profit organization OSO (Our Sisters' Opportunity), founded in 2019.
Training in tailoring and shoe-making, as well as business management, health education, soft skills and new forms of gardening are OSO's focus. Through a precisely planned program over two years, the graduates are to be enabled to earn an adequate income for themselves and their families as businesswomen.
The first activities have already started successfully in 2020.
The women of the Impore sewing workshop, which we have been supporting since 1995, are also already benefiting from the OSO training courses.
For Ikiraro e.V. Delphine's new organization held a hygiene training for the pupils of the primary school in Ruli.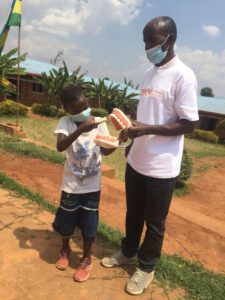 Furthermore, she organized a hygiene training for Never-Play-Alone St. Pauli at the school in Mwendo.
In January 2021, the first full OSO program will begin with 45 participants to start their own small business.
You can learn more about the idea and program here in the Our Sisters Opportunity 2020 Annual Report.
OSO is cooperating closely with the relevant ministries in Kigali to develop and implement the projects – poverty alleviation through the development of Rwanda's own textile industry is also a government goal.
The community of Gakenke, where Ruli is located, supports Delphine and provided her with a large house, conveniently located on the main road near Rulindo, as a training center, although she had already purchased land in Ruli for this purpose.
Delphine financed the start of OSO from her own income, and only since October of this year an American foundation has supported her, with which she had already been in contact for some time through her work for the U.S. aid organization Ihangane.
Delphine began working for Ihangane, involved in many medical fields, in 2012, shortly after completing her studies in Kigali and Kampala, and she became their Country Director in 2013.
In 2016, she then realized her dream of starting her own fashion company, DelphineZ Fashion House. The label "Made in Rwanda" honored Delphine as the best designer 2019. With DelphineZ, Our Sisters Opportunity is now collaborating in "tailoring and design".
Delphine recently gave up her employment at Ihangane to work full time for OSO.
We are very excited about this great development and wish Delphine much success with Our Sisters' Opportunity.
(As of 12/2020)