Salvator Habimana has been our reliable friend and partner on site in Ruli for many years.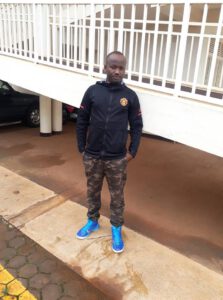 Soccer and basketball or sports in general have always been his passion – as you can see on the pictures.
We supported him during his studies and in 2010 he graduated with a bachelor's degree in "Development Studies" – and since then he has been working for different organizations. He acts as a change agent to add value to community development practice by exploring and coordinating networks and partnerships, currently volunteering e.g. for ConnectAid as Community Advocate and Field Reporter.
Based on his academic and professional connections, he has supported our different projects in Rwanda and now is very important for the Ikiraro association. He participated in his first German course at the Goethe Institute in Kigali in 2016 and he always appreciates to use his knowledge during our visits on site and in regular digital communication. We also communicate with him in English and French, also often depending on which language the other partners on site in Ruli speak – since English and French belong to the official languages in Rwanda besides Kinyarwanda.
It is very important for us to have a permanent contact at site, who always provides us with the latest information from Ruli, Kigali or Rwanda as a whole, because, of course, we often do not hear about important developments and facts from Rwanda here in Germany due to the distance.
Our trips to Rwanda would certainly not be as exciting and fascinating as they were in the past without his coordination of the numerous appointments and activities on site as well as the close cooperation during the planning and the good support on site.
We hope to meet Salvator personally again soon and thank him very much for his volunteer support!
September 2022
After many exciting months, Salvator is feeling better after a successful kidney transplant in India.
His sister Marianne donated one of her kidneys to him. You can find more details in our news.
After the transplantation and the stay in India, Salvator would like to thank all donors and supporters and has sent us a letter with the request to forward it:
Re: Thanks for Providing Medical Help
Dear respected members of Ikiraro association and other various humanitarian persons that contributed to my case.
Firstly my thanks goes to my sister Manirabaruta Marianne who made a serious and crucial choice to change my life while accepting donating her kidney. It is of priceless gift of life I have received.
Secondly, my thanks go to you who contributed in different ways to my case. I hope you are doing great in health. I am writing this letter to you all so that I can inform you that my operation has been done successfully. The process of follow up us continuing, the medical report and the view of the Doctor supervisor is satisfied. It is for life process, but optimistically believing that all goes on well. It was a hard situation to live with doing dialysis weekly, very expensive, and discomfort situation to understand while the promising solution was not clear during the time. 
It is all due to your kind help that you have provided me such medical support, various facilities, and moral motivations from the members of ikiraro association were considerably appreciated. The financial support was special for my case, especially due to the covid-19 moment we were experiencing, and financial situations of people was not good. Without this, I cannot be able to afford this much money for my  kidney failure treatment, this is include dialysis weekly payment, organizational costs for me and my sister to travel and stay in India for medical surgery, and since then the costs for medicines during the post-surgery moment , follow up, etc.
The process of recovering is continuing, and I am thinking and planning the way to live my new life moment, and hopefully all goes well as I wish.
 Thank you very much I have no more words to say.
God bless you all and your families.
Thanks.
Salvator
Currently (November 2021) Salvator is unfortunately very ill and in this difficult situation we ask you for your help, as Salvator was infected in the summer of 2021 very seriously with Corona.
This disease led to kidney problems for him. Unfortunately, the kidney function has not improved even after regular dialysis, so the doctors talk about end-stage renal failure. They also stated that a kidney transplant was the best solution for Salvator.
The alternative would be three weekly dialyses for the rest of his life – connected with extremely high costs, which are not covered by the insurance.
Both options are only possible for Salvator with our financial support, because the Rwandan basic health insurance only paid for the 18 dialyses for the first six weeks, after which, thanks to donations from our Ikiraro e.V. members and friends, we took over the further costs, which is still secured until the end of November.
After discussions with his doctors, his family, regular exchange of information with us and further inquiries, Salvator is now aiming for a kidney transplantation in the near future.
However, these surgery is  not possible in Rwanda at the moment. However, in coordination with the King Faisal Hospital in Kigali regarding the patient's medical situation and the Ministry of Health, these surgeries can be performed for Rwandan citizens in India.
Salvator is in contact with two kidney patients from Rwanda and gets information from them. One person had a transplant in India last year and is very happy with his new life, the other is currently waiting for his surgery in India soon.
Salvator has already found two potential kidney donors among his family. These persons must first be medically examined for their suitability. This will take place beginning of November in Kigali and will be financed by Salvator's family.
The exact costs for the whole surgery, travel expenses and treatments have not yet been finally determined. It is unclear whether the Ministry of Health will pay a share of the costs. We assume a total amount of at least 30,000 €. The official procedure for the approval of the transplantation will only be initiated when Salvator can prove at least 20,000 $.
In addition, there will be the costs of the necessary regular dialyses until the time of the transplantation; this is about 1400 € per month.
We would like to make this transplantation possible for Salvator to save his life and ask for your support.
Even if the amount seems to be very high at first, we are quite optimistic to reach the target.
We trust in the proven motto of our Rwanda project: "Many small people in many small places, doing many small things, can change the face of the world."
Perhaps you will use your network and approach friends or acquaintances who can contribute to the success of this project.
We have set up a separate account for Salvator.
IBAN DE02 4905 1285 0160 1285 83
WE together for Salvator
Optimistic that WE TOGETHER can help Salvator, we already say THANK YOU!