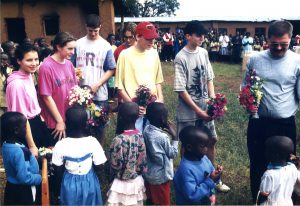 In 1995, a few months after the genocide in Rwanda, my former class 8b of the Realschule Süd Bad Oeynhausen had the spontaneous idea to support the primary school in Ruli.
The Background was a slide show by Karsten Versick, journalist of the Mindener Tageblatt, about Rwanda after the terrible incidents of the genocide.
Our small initiative to send school material to Rwanda quickly expanded.
We asked for support from Help, Hilfe zur Selbsthilfe e.V., a first aid organization from Bonn that was active in Rwanda at that time.
Their managing director, Wolfgang Nierwetberg, not only helped us to despatch our boxes.
At first we thought that his idea to recommend us a trip to Rwanda immediately at that time was crazy, but then we got more and more familiar with this idea.
He also helped us to carry out the very controversial trip to Rwanda in November 1995 – and at that time Rwanda was not yet safe.
A journey that changed lives.
The documentary film broadcast on TV is called "Come back soon!"  – And we came back.
Since then, annual visits to Rwanda and some return visits have led to very close personal relationships.
We know the local situation and the difficult living conditions of the children and young people very well.
So we can use the donations entrusted to us in cooperation with our partners and friends in Ruli sensibly and responsibly and furnish direct information from Rwanda here in Germany.
Werner Eyßer