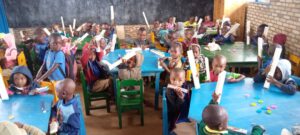 During the long summer vacation (approx. 3 months), all 907 pupils came to the primary school in Ruli. The headmaster Alphonse used the network of village coordinators for communication in their prayers' houses to inform the pupils and families accordingly that the "school presents" for the new school year were ready for distribution. All pupils were very happy and they received different educational materials such as notebooks, pencils, erasers, rulers and math sets depending on the grade level. In addition, they got a large bar of soap, toothpaste and a new toothbrush, as in the previous campaigns.
This was the third time that Ikiraro e.V. successfully carried out this campaign, thus making a valuable contribution to teaching and hygiene education.
Since prices are also rising considerably in Rwanda at the moment, we purchased these items quite early and, together with the headmaster, decided to hand them over to all pupils during the vacations.
As the pictures clearly show, it was apparently not a burden for the children to come to school even during their vacations.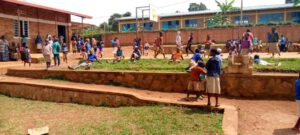 We are happy about this campaign together with the pupils and the teachers and now wish everybody nice and healthy vacations.
Please follow and like us: