Christmas 2019
A Merry Christmas and  all all the best, luck and health for the next year to our friends, supporters, donors and interested people.
And in Ruli they are also celebrating: the foundation is growing:
December 2019
We finally started:
Thanks to all your donations and the great support, the first part of the collected money for the new toilets of the primary school could be remitted to Ruli – we thank you very much!
The students and teachers of the vocational school are marking out the area for the new toilets and the work on the foundation will start soon.
We keep you updated here with further information and pictures.
The building time for the new toilets – once again under the motto "Students help students" – should take approx. three months.
November 2019
What a great success – The band Harpyie from Bad Oeynhausen sold their roll-up banner of the last tour – and earned € 322 for Ikiraro!
Further details regarding this project were published in today's Neue Westfälische.
You can read the complete article here lesen.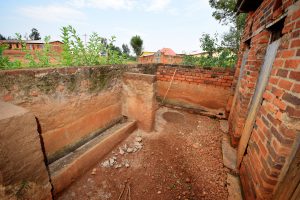 This picture will soon belong to the past – we can soon start building new toilets!
The students of the primary school in Ruli/Rwanda will be happy.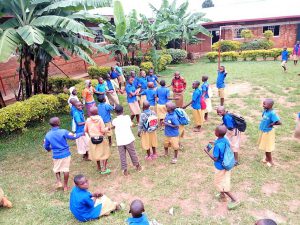 The money for the first two construction phases has been collected, but there are still some preparations and cooperative discussions missing as well as financial means to reach the estimated total cost of 11,500 €.
In order to reach our goal quickly, we have started a donation project on betterplace.org for the target amount of 4.500 €, please click here to reach the website of the project.
Of course, we still rely on donations via our Ikiraro e.V.-account (DE 60 4905 1285 0008 3045 94) at the Sparkasse Bad Oeynhausen-Porta Westfalica.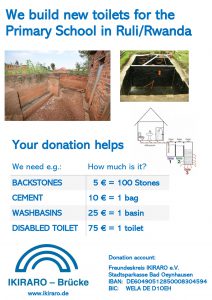 Again under the motto "Students help students", the bricklayer students of the vocational school in Ruli will carry out the work – thus combining practical learning and gaining a profit for the further development of their own school, which is also supported by us.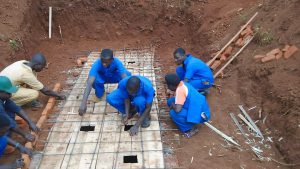 The planning and site management for our current project are in the hands of John, a young engineer whom we have known since childhood, when he grew up in the orphanage in Ruli.
The new toilets will be built sustainably, with a three-chamber system, and there will also finally be a disabled toilet in the primary school.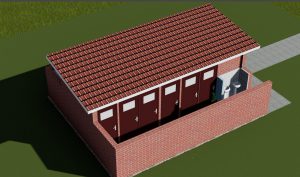 We will keep you updated here and on Facebook regarding the process of this project.
Many thanks for your support!