In August all pupils of the Primary School in Ruli received again a present for a good start in the new school year:
Toothbrush, toothpaste, soap, mask, exercise book and pencil for all pupils of classes 1 – 6
Ruler, sharpener and rubber for the pupils of class 1
Drawing notebooks and coloured pencils for nursery classes
Mathematical set for the pupils of class 4.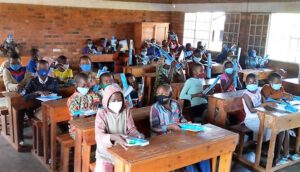 This year, of course, we organized again the hygiene training by the organization OSO. This time, however, it wasn't just taught how to brush teeth! Since we also had liquid soap dispensers set up at the hand washing stations as well as disinfectant dispensers in each classroom, proper hand washing was also a topic of the training – very important in the Corona crisis that is still ongoing in Rwanda as well.
The soap dispensers are enthusiastically tried by the children and they directly practice what they have just learned!!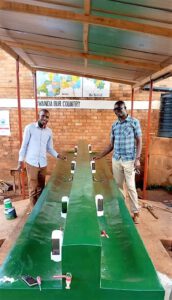 In order to make sure that the hand washing station withstand the climatic conditions, the station was repainted and equipped with a roof.
Once again a big thank you to all donors!
Please follow and like us: